How do I measure my pet?
Each product has measurements listed on the product detail page - on the detailed description tab. Please use the following diagram to help you measure your pet.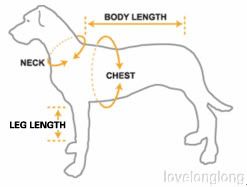 Can I return the product for full refund if I am not satisfied?
Yes, within 15 days of receiving the item. You will be responsible for shipping cost of returning item.
How long will it take to receive my products?
Products will ship out usually within 3 business days. If it is in stock you will receive within the week. If it is not inn stock it will be drop shipped from manufacturer and may be up to 2 weeks. Petcessories will email you your tracking information upon shipping confirmation.
Shipping Costs
Free Shipping